Driving Lessons In Croydon
Apex Driving School has been offering driving lessons in Croydon and surrounding areas since 1992. We have 15 fully qualified ADI driving instructors teaching. Our School offers lessons in all aspects of driving. If your needs are passing your manual or automatic driving test, refresher lessons, confidence lessons, motorway driving or pass plus. You name we have the qualifications to help you every step of the way.
Driving Lessons Croydon Surrey & Driving Schools Croydon Surrey.
Its important that you can be rest assured that ALL Apex Instructors are fully qualified with the Green Badge as proof. Also its safe to say they will live in your area and work the local test routes every day.
Request a Callback
We'll give you a call to discuss the best driving course for you:
Prices
Manual lessons are £28.50 per hour individually, £142.50 for 5 or £275 for 10

Automatic lessons are £29.50 per hour individually, £147.50 for 5 or £285 for 10
Our Services
Full hour given

Motorway / Refresher Lessons

Pick up from Home / School / Work
Theory test tuition (free)
Our Team
Over 25 male & female instructors

Patient / Polite / Friendly
Test Centres in and around your area
There are many routes taken by the examiner. But We at Apex have access to ALL the routes:
Request A Call Back
Would you like us to call you?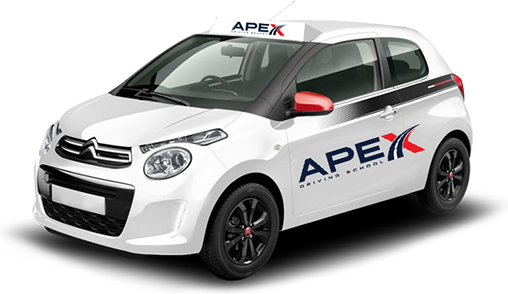 Areas of Importance when taking driving lessons in Croydon
The Croydon area can be tricky to negotiate, your Apex driving instructor will know which areas to take you depending on your ability and lesson plan for that day. A Suitable area is required for each lesson plan to go to plan. For instants its no good doing your reversing lessons on a busy road, thus be unable to perform the exercise enough times to master it independently. There are many aspects of driving so below are just a selection of lesson plans and areas suitable.
Lesson Plan : Moving away and stopping – Driving Lessons Croydon
Our Driving Instructors will take you to an area like Sandilands which is perfect for first time practising Moving off/Parking. This area is also excellent for clutch control and hill starts.
Lesson Plan : Lane Discipline
Purley way is very good for learning the importance of lane discipline and various traffic conditions. Also the area has a 40mph section, one-way system and a large roundabout.

Lesson Plan: Roundabouts
The roundabouts around the Croydon driving school test routes can be challenging, but rewarding when done well. Most important are the Mirrors are correctly used. Signals entering and exiting are correctly used. Lane and gear approach is essential too.

Lesson Plan: Junctions – Emerging & Entering – Driving Lessons Croydon
To be able to approach junctions safely and correctly you will need to perform MSPSL, Mirror, Signal, Position, Speed and Look. When emerging and entering from junctions, the best places for this can be found in the area around South Norwood high street and Thornton Heath high street.

Lesson Plan : Reversing exercises
Reversing exercises when taking driving lessons in Croydon can prove frustrating when other road users constantly turn up. Our driving instructors will be able to use places such as Green lane Norbury or Sandilands Croydon.

Lesson Plan : Pedestrian Crossings – Driving Schools Croydon
In town driving we will concentrate on the Pedestrian crossing of Croydon. You will learn how to recognise them and approach them safely.
There are many more places known to us for various exercises. There may well be occasions you need to be taken to another area for your test, for example Sutton. All our Instructors are just as familiar in any areas to give you the best places to go to improve your chances of a first time pass!
Customer Testimonials
"I enjoyed every lesson. The lessons were structured and fun whilst progressing on every lesson. My Instructor Ian was great."
"I could not find an instructor to take me on my test, that was Tuesday, and my test was Thursday morning. I telephoned Apex and i had a driving instructor phone me back within 5 minutes. We arranged 2 driving lesson's before my test, (later i found out my instructor stayed out 2 hours after he should have finished work) I thought I could drive well, but i was surprised how many bad habits i had picked up. I needed a kick. My driving instructor knew his stuff, the first thing i said to him when i passed was you were so right. Glad i listened to him, now i don't have to carry my work tools on the train anymore. Thanks again, Highly recommended!"
"I PASSED MY TEST FIRST TIME. I can't thank my driving instructor enough for giving me my freedom. I was a nervous pupil from the start, but my driving instructor helped me overcome my nerves. I would recommend APEX to anyone wishing to start lessons. THANKS SO MUCH to my driving instructor and Apex office staff."
All Other surrounding areas our Croydon instructors cover are below:
Cant thank Apex enough for getting me through my Automatic test. The driving instructor even took me on the exact test route I went on my test. Brilliant! Thanks to my driving instructor, I don't need buses any more.
Our driving instructors in Croydon are highly qualified to work with individuals with various driving strengths. What makes us desirable to many individuals is our high pass rate; we only use the best teaching methods to ensure you drive well and safely.
At Apex, we also offer intensive driving courses in Croydon to help you get in a lot of lessons in a short period of time. Get in touch with us today to book your first lesson today.
Driving lessons are available in the Croydon Post Codes below:
CR0
SM1
SE5
SW2
KT3
BR4
CR1
SM2
SE11
SW4
KT4
CR2
SM3
SE19
SW8
KT17
CR3
SM4
SE20
SW9
KT18
CR4
SM5
SE21
SW12
KT19
CR5
SM6
SE22
SW16
KT20
CR6
SM7
SE23
SW17
CR7
SE24
SW18
CR8
SE25
SW19
CR9
SE27
SW20