Learn To Drive with Apex
FREE 30 mins Controls Lesson with 10 Block Booking

Manual Lesson are £26 Per Hour, 5 Hour for £125 and 10 Hour for  £240

Automatic Lesson are £27 Per Hour, 10 Hour for £260
Passing Your Driving Test with Apex Driving School
Apex Driving School has been an established provider of driving lessons since 1992, teaching in areas such as Croydon and Sutton. Our Driving and Vehicle Licensing Agency (DVLA) approved driving school is extremely popular for teaching younger and older people how to drive and pass their test. With an experienced set of driving instructors, you are definitely with the right company that can teach you the rules of the road. Learn to pass your driving test in South London with our friendly instructors who take pride in each student they take on.
Would you like us to call you?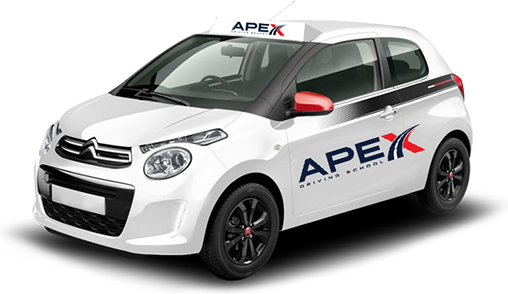 Request a Callback
We'll give you a call to discuss the best driving course for you:
Contact Apex for Help On How to Obtain Your Driving Licence
Apex Driving School have a friendly team that are on hand to help you out with any questions or queries. Simply contact us on 020 8647 0486 or send an email to info@apexdrivingschool.co.uk.
In order to obtain a driving licence, you have to be 17 years old or older. You will then have to take driving lessons and pass a theory test until you and the instructor feel you are ready for the final driving test. If passed, the student is now eligible to drive.
Driving Lessons in Manual or Automatic Vehicles
At Apex, we offer the very best automatic driving lessons in East & West Croydon, with attentive instructors and quality vehicles for you to learn in. All of our vehicles are dual-controlled, giving you peace of mind knowing that your driving instructor is always there to ensure your safety, and the safety of other road users. You can choose to drive in a manual or automatic car.
FREE 30 mins Controls Lesson
with 10 Block Booking
Manual Lesson are
£26 Per Hour,
5 Hour for £125,
10 Hour for £240
Block Booking Discounts
Gift Vouchers Available
All of our vehicles come with an Apex headboard, and a clean and tidy interior, minimising any cause for distraction inside the car. You can focus entirely on the road ahead whilst learning with Apex Driving School, making us the perfect choice for automatic driving lessons in Sutton & Croydon.
FREE 30 mins Controls Lesson
with 10 Block Booking
for Manual beginners
Manual Lesson £26,
5 Hour for £125,
10 Hour for £240
Automatic lesson £27
Block Booking Discounts
Gift Vouchers
Pricing & Available Times for Driving Lessons
We cater for learner drivers living in Croydon, Sutton, Morden and most of the other areas surrounding South London. Our driving lessons offer a fantastic range of low prices with our block booking discounts, student rates and first driving lesson offers; so before you do anything else, contact us and find out what affordable prices we can offer you! Our experienced driving instructors are more than capable of teaching all levels of learner drivers, from complete novices to test-ready drivers. No matter how many lessons you need to become test-ready, we promise to give you high quality & safe driving lessons that will help you build your confidence behind the wheel.
Our driving lessons take place between 6am and 9pm, and they begin once you climb into the car. We can collect you outside of your school, home, workplace or simply in town, so there's no need to worry about travelling to us; we will always do our best to get to you! To ensure that you know exactly what's happening, our dedicated driving instructors provide you with appointment cards, helpful booklets and drawings of road and traffic situations.