Prices
Manual lessons are £28.50 per hour individually, £142.50 for 5 or £275 for 10

Automatic lessons are £29.50 per hour individually, £147.50 for 5 or £285 for 10
Our Services
Full hour given

Motorway / Refresher Lessons

Pick up from Home / School / Work
Theory test tuition (free)
Our Team
Over 25 male & female instructors

Patient / Polite / Friendly
Test Centres in and around the area of Wallington
Please CLICK on any of the Test centres below to find out more about the test routes and view an ACTUAL test route taken straight from the D.S.A. website.
There are many routes taken by the examiner. But We at Apex have access to ALL the routes:
Request A Call Back
Would you like us to call you?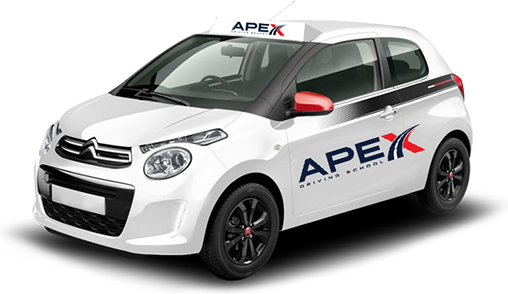 Areas of Importance when taking driving lessons in Wallington
On your lessons in the Wallington area, your instructor will know which areas to take you depending on your ability and lesson plan for that day. A Suitable area is required for each lesson plan to go to plan. For instants it's no good doing your reversing lessons on a busy road, thus be unable to perform the exercise enough times to master it independently. Below are a small example of lesson plans and areas suitable in Wallington
Lesson Plan: Moving Off and Stopping 
There is nothing worse than being scared off on your first lesson or the lesson going wrong, because the instructor didn't plan it well or take you to a suitable site. Your instructor will drive you to a quite area. On the drive, he will reassure you and explain the lesson plan. When arriving at a suitable site the instructor will brief you on Moving off. The instructor will introduce you to M.S.M (Mirror, Signal, Manoeuvre) and P.O.M. (Prepare, Observe & Move) A perfect site would be Boundary road or The Drive areas of Wallington.

Lesson Plan: Meeting Traffic
This subject is difficult to master and takes weeks to sort out. You need many various narrow situations. Many pupils have failed the test on this subject, but its so not necessary. You will be taken to many areas known to your instructor that have the perfect conditions. You will need lots and lots of parked cars. The best areas for meeting traffic around Wallington are all roads off Stafford road.

Lesson Plan: Junctions – Emerging and Entering
You will need to do major to minor roads, minor to major roads and Crossroads safely using the MSM routine. So there is no point driving for miles in a straight line waiting to turn. Therefore the grid of roads off Stanley Park road and Green Wrythe Lane are perfect for a taster of this topic.

Lesson Plan: Pedestrian Crossings
You will be asked to drive on the main roads leading in and out of Wallington High Street. Pedestrians have priority, even the dangerous ones. The elderly need more time to cross and Children are unpredictable. Look, Assess, Decide & Act.

Lesson Plan: Reversing Exercises 
Reversing for the first time is difficult, so ideal areas for these in Wallington are around Boundary road or John Fisher school.  or around south Sutton area.

Lesson Plan: Clutch Control 
Its importance is second to none. You will be taken to hilly areas such as The Mount or nearby pine walk. To master clutch control you will have to combine your clutch pedal and gas pedal. The Biting point is the trigger word here.
There are many more places known to us for various exercises. There may well be occasions you need to be taken to another area for your test, for example Morden. All our Instructors are just as familiar in any areas to give you the best places to go to improve your chances of a first time pass!
Customer Testimonials
I hated lessons until I met Mark from Apex. Now I love them. I am a great believer if you enjoy something you will automatically do well in it. Thanks Mark
I only had 22 lessons, far less than my brother did. I passed first time. I don't think I could of done it so easy without my Apex instructor. Thanks again. I recommend Apex. Plus recommend doing pass plus through them too.
I passed my test. All my friends passed second time and I passed 1st time. They should have come to Apex. All my other friends will be recommended Apex from now on. Thanks Apex.
All the surrounding areas our Wallington driving instructors cover are below:
We offer driving lessons in many areas in and around South London. The areas our  driving instructors in Wallington cover include:
Banstead, Beddington, Belmont, Carshalton, Carshalton Beeches, Cheam, Chipstead, Coulsdon, Croydon, Hackbridge, Merton, Mitcham, Morden, Purley, Rose Hill, Roundshaw, Sutton, South Sutton, St Helier, West Sutton, Waddon, Wallington, Woodmansterne
Lessons are available in the Wallington Post Codes below plus many more:
CR0
SM1
SE5
SW2
KT3
BR4
CR1
SM2
SE11
SW4
KT4
CR2
SM3
SE19
SW8
KT17
CR3
SM4
SE20
SW9
KT18
CR4
SM5
SE21
SW12
KT19
CR5
SM6
SE22
SW16
KT20
CR6
SM7
SE23
SW17
CR7
SE24
SW18
CR8
SE25
SW19
CR9
SE27
SW20