Prices
Manual lessons are £28.50 per hour individually, £142.50 for 5 or £275 for 10

Automatic lessons are £29.50 per hour individually, £147.50 for 5 or £285 for 10
Our Services
Full hour given

Motorway / Refresher Lessons

Pick up from Home / School / Work
Theory test tuition (free)
Our Team
Over 25 male & female instructors

Patient / Polite / Friendly
Test Centres in and around the area of Worcester Park
Please CLICK on any of the Test centres below to find out more about the test routes and view an ACTUAL test route taken straight from the D.S.A. website.
There are many routes taken by the examiner. But We at Apex have access to ALL the routes:
Request A Call Back
Would you like us to call you?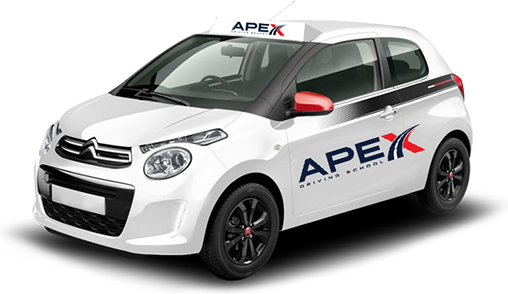 Areas of Importance when taking driving lessons in Worcester Park
On your lessons in the Worcester Park area, your instructor will know which areas to take you depending on your ability and lesson plan for that day. A Suitable area is required for each lesson plan to go to plan. For instants its no good doing your reversing lessons on a busy road, thus be unable to perform the exercise enough times to master it independently. Below are a small example of lesson plans and areas suitable in Worcester Park
Lesson Plan: Moving away and stopping
Worcester Park does have a few good areas for your very first lesson. The Dorcester road area is excellent for clutch control and hill starts. To move off and stop successfully you will be asked to perform procedures known as. Prepare the car to move. Six point observation. Move away from the kerb. Adopt normal road position.
Lesson Plan: Roundabouts
The roundabouts around the Worcester Park area can be challenging, but rewarding when done well. In particular the roundabout over the A3 and New Malden. Lane discipline is crucial on the larger ones. Misleading signalling leads to confusion and danger. Your instructor will help you with the finer details for success.

Lesson Plan: Junctions – Emerging and Entering
Mirror, Signal, Position, Speed and Look. Worcester Park like most areas have plenty of places to practise emerging and entering junctions. The best places the area around Worcester Park high street.

Lesson Plan: Reversing exercises 
Reversing exercises in the Worcester park area can be carried out of Demany road area. Doing your revering slowly is the key to succeed. This will give you the time to do all the other things necessary to perform the exercises, such as Observation of other road users and timing of steering.

Lesson Plan: Pedestrian Crossings 
Pedestrian crossings are an important part of main roads. They are situated in high street, near schools and train stations. In Worcester park there are various types of Pedestrian crossings. Their rules have to be obeyed as pedestrians are vulnerable road users. Your instructor will take you through the way to approach and deal with crossing.

Lesson Plan: Dual Carriageways and Lane Discipline
Your Instructor will take you up and down / on and off the A3. This road is perfect for making sure you stick to the appropriate lane for your destination. Plus with the speed limit varying from 40mph to 70mph, you will be able to master the car at speed. Worcester Park sits smack bang in the middle of the A3.
There are many more places known to us for various exercises. There may well be occasions you need to be taken to another area for your test, for example Croydon. All our Instructors are just as familiar in any areas to give you the best places to go to improve your chances of a first time pass!
Customer Testimonials
I was going to switch to Automatic from manual by the time I connacted Apex. The office staff persuaded me to continue with manual with one of their instructors. He was a grade six instructor and I can see why. What a difference good tuition made. Thanks to all at Apex.
I had an accident two years ago that put me off driving even though I passed two years prior. I ask Apex to give me confidence lessons. Especially on the Motorway and dual-carriageways. The instructor was brilliant. I am back on the road and confidence is sky high. Thank You.
I live nearly on the A3 and always was scared of it. I started learning in April and was on it by early May. My instructor from Apex was calm, which made me calm.
I sailed through my test with only 4 minor faults. Guess what I even went on the A3 on that test. Thanks Apex.
All the surrounding areas our Worcester Park driving instructors cover are below:
We offer driving lessons in many areas in and around South London. The areas our  driving instructors in Worcester Park cover include:
Driving Lessons Banstead, Belmont, Burgh Heath, Carshalton, Carshalton Beeches, Colliers Wood, Croydon, East Croydon,
Driving Lessons South Croydon, West Croydon, Epsom, Epsom Downs, Ewell, Kingswood, Merton, New Malden, Roundshaw, Driving Lessons Sutton, South Sutton, West Sutton, Wallington
Driving lessons are available in the Worcester Park Post Codes below plus many more:

CR0
SM1
SE5
SW2
KT3
BR4
CR1
SM2
SE11
SW4
KT4
CR2
SM3
SE19
SW8
KT17
CR3
SM4
SE20
SW9
KT18
CR4
SM5
SE21
SW12
KT19
CR5
SM6
SE22
SW16
KT20
CR6
SM7
SE23
SW17
CR7
SE24
SW18
CR8
SE25
SW19
CR9
SE27
SW20